Laser frenectomy
For infants and children
Laser frenectomy
For infants and children
Dr. Lucas was the first pediatric dentist to offer laser frenectomy for infants in Austin. Dr. Lucas has extensive experience performing the procedure, as a board certified Pediatric Dentist with more than 10 years experience.
Tongue tie, or lip tie, is a common developmental condition that may cause pain with nursing, or difficulty breastfeeding for some infants. Benefits of laser treatment include less discomfort, no bleeding, and more complete treatment compared to conventional methods.
We love to see infants and families in our clinic. We can usually fit patients in right away — we don't want trouble with breastfeeding to continue. You can schedule online now, or give us a call.
We're happy to submit your dental insurance directly, or we can explain how to use your medical benefits. If you have questions about insurance benefits for the procedure, just give us a call.
Laser frenectomy: What to expect
Post procedure: What to expect
Frequently Asked Questions
I've been told my infant or child has a tongue tie / lip tie. Now what?
Give us a call to schedule a visit at 512-900-KIDS. We can answer any questions you may have. We'll try to get you in as soon as possible; we don't want problems with nursing to continue. You also can 
schedule online
to make an appointment with Dr. Lucas.
What should I expect the day of procedure?
We offer several things to consider:
We recommend not nursing or feeding your baby immediately before your scheduled visit. We will want your baby to nurse or feed after the procedure to make sure mom and baby are comfortable with the latch, and to answer any questions with nursing or bottle feeding.

Dr. Lucas will perform the exam with the parent knee to knee.

Dr. Lucas will explain her findings, review her recommendations and answer any questions with parents.

If parents decide to proceed with treatment, we will present a consent form for the procedure.

Your child will be swaddled in the treatment room, and have laser eye protection.
Baby will breast or bottle feed after post-procedure (we recommend).
Dr. Lucas will review stretching exercises with parents.
What about after the procedure?
What should I expect after the procedure?
 Although the procedure takes a few minutes, your family will have to monitor your little one for several days. It can take approximately 14 days for the lip and/or tongue to heal following the release. The following steps should be followed to ensure proper healing:
Maintain normal oral hygiene while avoiding the surgical site for about 3-5 days. This will make sure to avoid unwanted bleeding and encourage faster healing.

If bleeding does occur, apply a moist gauze with light pressure to the area for approximately 20-30 minutes to stop the bleeding.

You may see a white/yellow patch at the surgical site. This may change colors while healing, which is completely normal.

Some swelling may occur. This is also normal and usually resolves within 24-36 hours. Placing frozen breastmilk chips over the site may offer some relief.

The post-operative exercises (massaging the surgical site) are important to prevent reattachment. We ask that you perform these exercises for 10 days, 4 times per day for 30 seconds.

If your baby is too upset the first night, you may skip the exercises and resume the following day.

You also do not have to wake up your baby for exercises.

Your little one might experience some discomfort for 3-5 days following the procedure. The complete healing will take approximately 14 days.

We suggest making an appointment with your lactation consultant within a few days after the release of your little one's lip and/or tongue if you have any difficulty with feeding. 
These instructions will be thoroughly discussed and reviewed at the time of your visit. A copy of these guidelines will also be sent home with your family. 
For more information regarding these exercises, please refer to our "post-surgery stretching and massage" video below.
Watch the "Post-surgery stretching and massage video"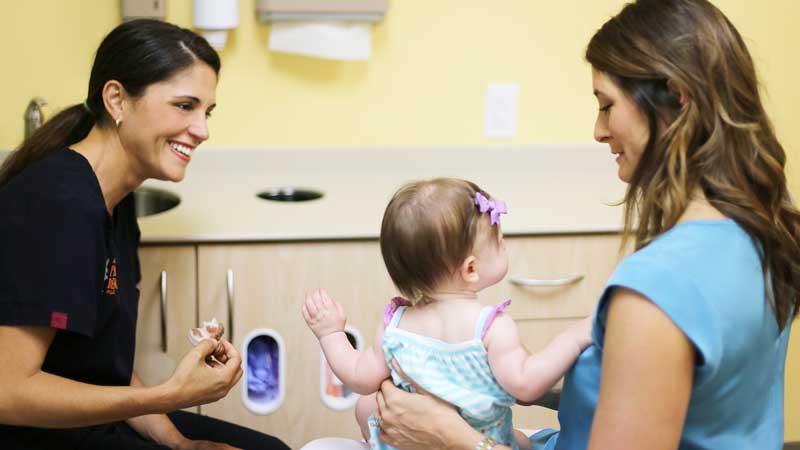 Contact Us
If you have questions about laser frenectomy, contact us to schedule a brief consultation with the doctor.